Effective planning for studies during COVID 19 lockdown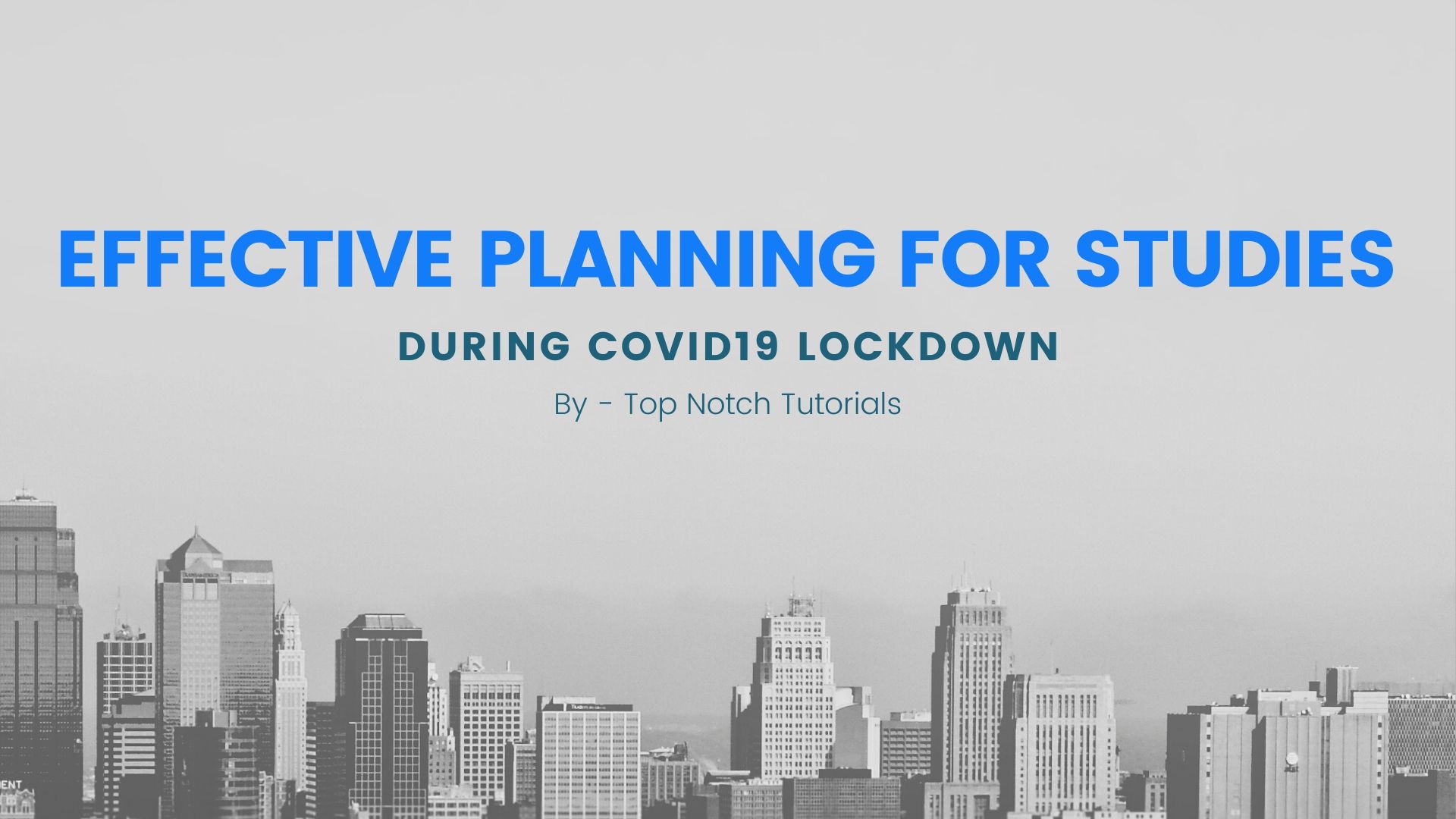 Effective planning for studies during COVID 19 lockdown

With so much happening around us globally, and India being placed under complete lockdown to fight the threat of deadly Corona Virus, we see a few other big challenges that will have to be solved in a methodical way.
On completion of one week of the lockdown in the country, Top-Notch Tutorials has observed a major spike in questions from students & parents around how to utilize the time effectively and how they should prepare in case the schools & coaching institutes do not open soon (which we see as a strong possibility).

While you may have observed in our other blogs & articles how we plan to engage with parents and students – especially for the critical classes from 9 – 12th, through online classes, study material, online communication and so on, but in parallel we are in the process of helping students prepare a robust planning around coping up with lockdown and making up for the lost study time.

While maintaining safety by staying at home, let us dive into how you could manage your time effectively and utilize this lockdown to avoid any loss of quality studies.

1. Start with a good time table This lockdown should not be treated as an extended vacation and students should have prepared a balanced time table by now and should be following that religiously. Feel free to read more under our blogs section to understand how you could create a balanced time table to manage all your subjects effectively.

2. Practice areas where you scored low in past session Utilize this time period to sharpen those subject areas and topics where you probably did not fare well in past session and may need improvement. That will help you when the schools reopen. Spend time with your coaching faculty (in case already joined an institute) to work around those in the initial days.

3. Collate & check for doubts online with faculty While we may be under lockdown and not allowed to move out, utilize the immense technology available to clarify all the doubts that you may have around any of the subjects while you are studying for the new/ past session.

4. Join coaching with facility of online classes & material Considering the uncertainty, it calls for a thought through selection of a coaching provider who has the infrastructure to provide online classes, study material, tests etc. to avoid any study loss while the schools are fully closed.

5. Read more & create a career plan
This is equally important, create a daily routine to read more – it could be literature, good fiction, business related articles, or informative material around career options helping you decide your future. Reading help you find answers to many of your queries, therefore enjoy that while you are at home.

To top it all, along with above indicated activities, Top-Notch Tutorials request you all to unwind and practice yoga, some in-house sports/gaming activity, light comedy movies etc. to keep your body, emotions and mind in good space. That's equally important to take on this period when we all have tendency to feel low, restricted and at times depressed.
We have always been highly approachable for any parents or student queries and would encourage all our readers to feel free in contacting us for any further queries. Write to us on contact@topnotchtutorials.com or call us on 8860-2427-13 to know more about any question that you have on mind.
Please do follow the prescribed precautions, and stay safe & healthy!