Online Video Classes & Infrastructure to beat COVID-19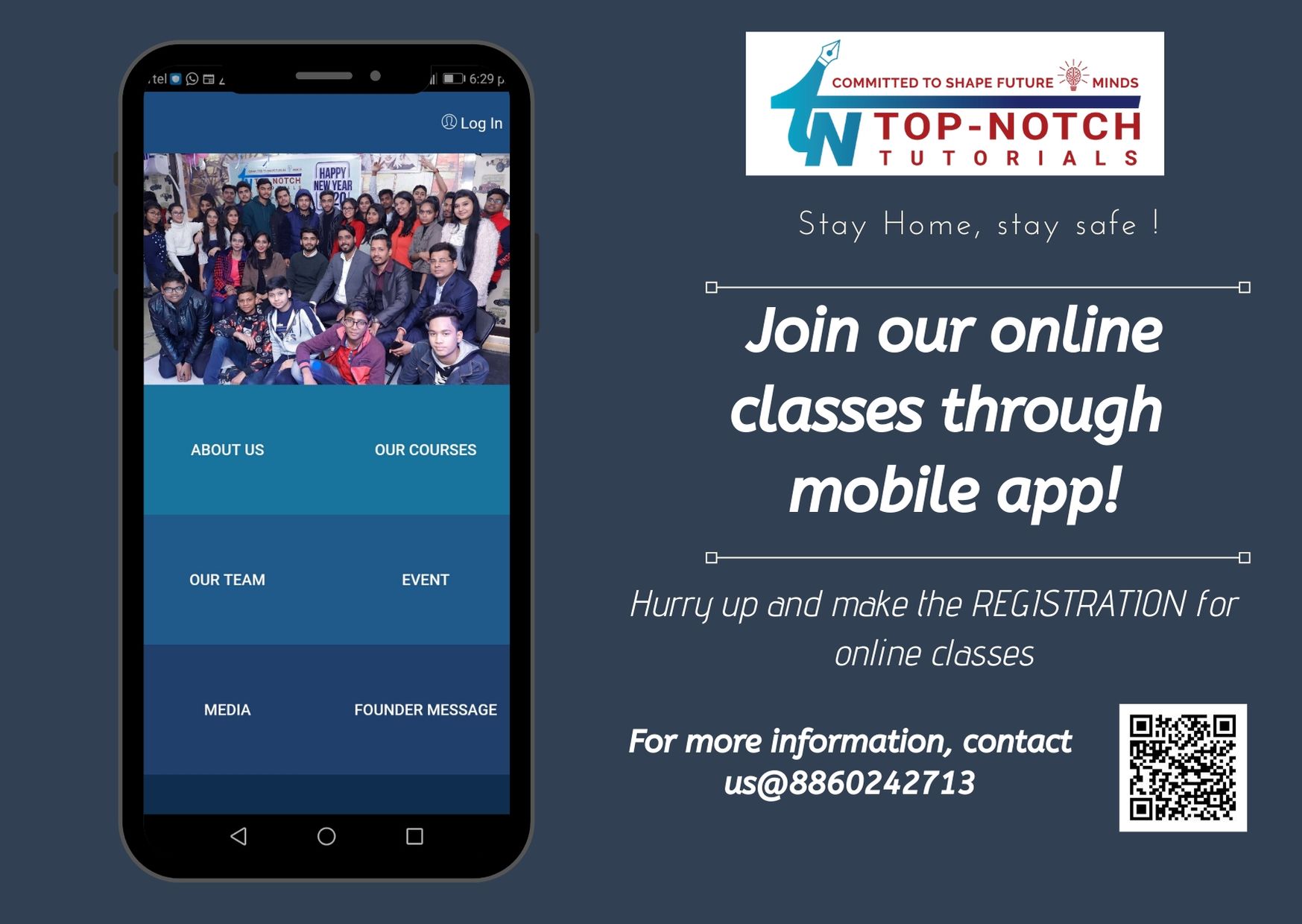 Online Video Classes & Infrastructure to beat COVID-19
With the country in complete lockdown and human lives being under huge threat owing to Covid 19, we as a nation need to stand up to the challenge and plan well to make sure that we not only come out of the current crises, but also take targeted steps to tackle the situation well.
The lockdown has a major impact on the education sector with students being completely lost and not able to take up their regular classes – especially for the critical classes from 9 – 12th, where they start planning their year and timetables in March & April, along with starting their coaching.
At Top-Notch Tutorials, we understand the student & parent pain and importance of timely planning and preparations, therefore will be rolling out new initiatives to make sure all our students are given best education and study material online, while they are home and maintain safety.
Below we have stated a few of our major initiatives:
Online Video Classes
To start with, we will be rolling out our self-branded mobile application which could be downloaded from Google Play Store (https://play.google.com/store/apps/details?id=com.topNotch.app).
The application has been designed such that students are able to get everything online, which starts with online live video classes to ensure safety of our students while we maintain the daily classes. The application has been built on best of the technology and will help students/parents to stay fully connected with the institute.
Free Registrations
We will not be charging any registration costs for the students considering the tough time, along with that the institute will be giving easy installment option for the fee payments and parents can pay through multiple modes – we want to make sure all students are able to get best of the education without worrying about fees.
Free Demo Classes
Every student will be eligible for two free demo classes for the online classes also to ensure they all know how the system is a great revelation and of high quality, backed by our best in class faculty.
No additional cost for course material
Top-Notch Tutorial will not be charging anything additional for the course and study materials being shared online or offline across courses to make sure every student gets additional value from the fees paid.
Fully online integrated environment
Top-Notch Tutorials is among the pioneers and few education players in Delhi NCR who has integrated the online teaching fully with offline classes. We have integrated online live classes, study material, online tests, assessments, and analytics – which helps students be on top of their syllabus, preparations and studies, always.
Easy payment terms
To make it easy for parents to fund their child coaching, we have lined up multiple options for payments and installment mechanisms to lower the burden of the current time when many of us are stuck with limited or no work and may struggle to get to normal life for next 2-3 months.
As indicated above, we are committed to provide 'Best in class' faculty, teaching, study material, technology, and value. Parents could also explore our free counseling sessions that shall help them ride over the current uncertain period and ensure take a wise and informed decision.
We have been receiving multiple calls & emails daily from parents asking about sessions and how we are tackling the new developments. Feel free to connect with us in case you also have any queries, write on contact@topnotchtutorials.com or call us on 88602 42713/78348 99327 to know more about any question that you have on mind.
Please do follow the prescribed precautions, and stay safe & healthy!