What are Crash Courses and if are relevant for perfect preparation?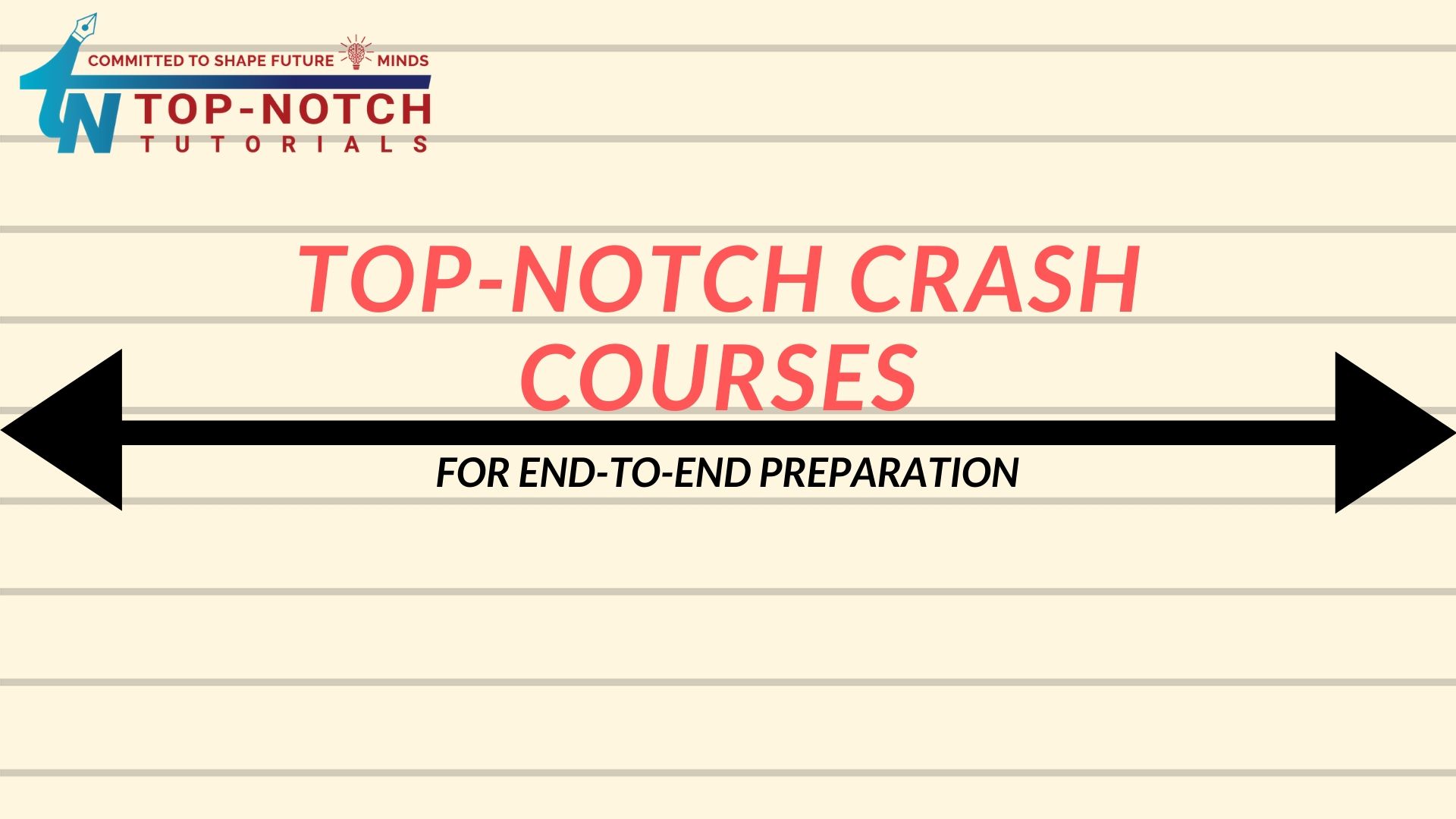 While students prepare for their X and XII board exams and get deep into their studies and subjects making sure all aspects of their syllabus is covered timely, and in line with the prescribed requirements, but there is still that last mile preparation that decides final grades/ marks of the students. It's imperative that last lap of the studies is well covered and final fine-tuning is done before we are just left with a few revisions to take the exams.
In this cycle, crash courses, which are small final bursts of syllabus coverage with focused and methodical preparation in four to six weeks is most sort after. A crash course focus on refining that missing logics, basics, unclear parts of the syllabus – while reaffirming the remaining to be revised and set a solid foundation for the exams.
Below we have lined up a few benefits that students drive out of these crash courses that Top-Notch focuses on:
Through Revision
Our faculty, with its vast experience of running crash courses help students go through a proven revision module and create a through and detailed plan for students to stick with while going through the final pattern of revisions. We work in tandem with the students to help them in full command of their syllabus.
Mock Tests with Loads of Practice
Mock tests are proven way of practicing and ironing out any pending understanding or concept issues. At Top-Notch we pay special emphasis on this and provide good series of mock tests for the students to prepare for the subjects.
Previous Year Papers and Keys
Previous year papers always reflect the pattern, difficulty level, and potential questions to be prepared. We pay special focus on helping students during the crash course to take previous years papers from our paper banks online and in the class to compare their preparations.
Instant access to the answer key help students also to introspect and create a targeted doubt session with faculty, in addition to the work that faculty does with students.
Guaranteed Improvement in Basics
With methodical focus and plan, our crash course is designed such that we guarantee students iron out doubts in basics and collate high confidence in their final preparations. A much needed boost and motivation to keep students relaxed while they start the final journey towards their exams.
High Marks & Rank
A good thought through plan and targeted execution from serious students, leads to high marks and ranks. All students who have stuck to our crash course program observe high return in terms of improvement in their overall marks and ranks.
All our crash courses across courses and subjects are designed with focus on students to just prepare for those missing edges and enable them express them fully in their exams with high confidence. We welcome all in and around Dwarka/ Delhi NCR to approach us to hear more on how we approach these and how you could also benefit from our approach to make that last moment difference in a missed opportunity or a great result.
Come meet us or contact us on contact@topnotchtutorials.com or call on 886-024-2713/783-489-9327 for any queries you may have around preparation or crash courses. We don't charge for making positive difference to our students & society.